There should be a whole army of buffs of fancy colored diamonds with a part supporting pink diamonds and with a non-smaller one speaking for yellow diamonds. Indeed, yellow diamonds have strong position on a fine jewelry market. They are now getting more popular among celebrities and are often seen on ring fingers of known starlets here and there. While men choose them as a nice color shade to propose with, ladies love yellow diamonds for warm and rich color palette. There are more details about yellows below:
Yellow diamonds are the most popular of all fancy color diamonds. They are readily available in a variety of shapes and are often featured in designer jewelry collections. In the last few years, collections from retailers like Tiffany & Co. have popularized the hue, and large yellow diamonds have made headlines for prices garnered at auction. "The Vivid Yellow," a 32.77 carat fancy yellow diamond, fetched $6.6 million at Christie's in October 2011. A month later, the 110.03 carat "Sun Drop" sold for a record $12.3 million, the highest price paid for a yellow diamond at auction.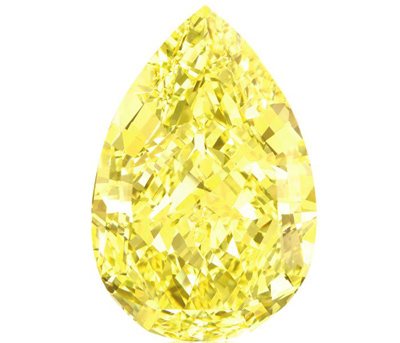 Photo: Sotheby's
Weighing 110.03 carats, the "Sun Drop" diamond is known as the largest pear-shaped yellow diamond in the world. For additional images, please visit: 110.03 carat "Sun Drop" Diamond Sells for a Record $12.3 Million
Yellow Diamond Details
Cause of Color: The presence of nitrogen causes yellow color in diamonds.
Secondary Colors: Common secondary colors in yellow diamonds include greenish yellow, brownish yellow, and orangish yellow, and sometimes these modifying colors are present in combination.
Rarity: Yellow diamonds are the second most common fancy color. They are second to browns in terms of rarity, but they are the most popular in the marketplace.
Grading: Yellow diamonds are deemed "fancy" when a stone displays more color than the "Z" color grade within the D-Z color grading scale. Fancy yellow diamonds are graded using the terms Fancy Light Yellow, Fancy Yellow, Fancy Intense Yellow, Fancy Dark Yellow, Fancy Deep Yellow, and Fancy Vivid Yellow.
Yellow diamonds that show less color than "Z," but more color than D-J graded diamonds are called Faint through Light Yellow: K-M Faint Yellow, N-R Very Light Yellow, and S-Z Light Yellow.
This information is taken from http://www.pricescope.com/wiki/fancy-color-diamonds/yellow-diamonds